NEW LAW TO HELP CURB ROOFING SCAMS
The hope of SB 76 is that it will begin to diminish litigation and contain home insurance premiums. Florida Governor Ron DeSantis, "Many of you know over the last decades, there's been a lot of ups and downs in this property insurance market in Florida," he said. "We saw a lot of problems. You've seen major premium increases and you even see some homeowners, their policies get canceled. They get dumped onto Citizens. So, we wanted to do something to stabilize that."
WHAT IS THE PURPOSE OF THIS LAW?
This new law is an effort to help curb roofing scams and fraudulent claims. Beware of any contractor who solicits your business or tries to convince you that they can get you a brand new roof for free. Fraudulent claims that roofing contractors can profit from are not free: All Floridians pay the price in the way of higher insurance premiums.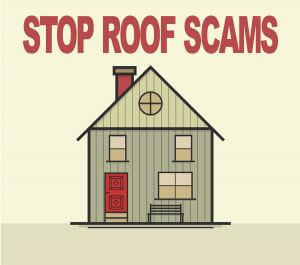 Specifically, it would establish that contractors may not:
Solicit a residential homeowner to file an insurance claim;
Offer an incentive to a residential homeowner for allowing the inspection of the residential property owner's roof or for making an insurance claim for roof damage;
Offer or accept any compensation or reward for referral of services for which property insurance proceeds are payable.
Interpret policy provisions, advise an insured about policy provisions, or adjust claims on behalf of an insured unless licensed as a public adjuster.
Provide an insured with an agreement authorizing repairs without providing a good faith estimate of the cost of the repairs.
Enter into a contract with a residential property owner to repair or replace a roof without including notice that the contractor is prohibited from engaging in certain acts.
The majority of this information was obtained through the Insurance Journal. For more information please reference these articles on insurancejournal.com
​